Relax after the days exertions and get your energy back – simply enjoying the dolce far niente.
Recharge your batteries and recover from everyday life - just switch off. Whether after a cold day of skiing or cross-country skiing or a strenuous hike or bike tour, in our newly designed, spacious wellness area on more than 120 m² you are invited to let your soul dangle with a Finnish sauna, sanarium, infrared heat cabin, heated bench, experience showers and newly designed relaxation room with heated loungers .

In summer our wellness area is open on request. (Reservation untill 10.00 at the latest)
In winter our wellness area is open daily. (Saturday rest day)
Finnish sauna
A classic Finnish sauna, as used by the ancient Vikings. The temperature is around 90°C and the humidity is below 20%.
With a sauna bath you can switch off, rest and gather new strength - for the day and its tasks, as well as for family and leisure time. Regular sauna bathing is not only fun, but also keeps you fit. You strengthen your immune system and your circulation and care for your skin in a completely natural way.
Sanarium
If the classic Finnish sauna is too hot or too dry, the sanarium offers an ideal alternative. At a temperature of around 55-60°C and a regulated humidity of up to a maximum of 55%, you will find a particularly gentle and low-irritant climate - healthy for the respiratory tract and good against tension. Various scents also contribute to well-being.
The sanarium is also suitable for children.
Aquaviva
A special feature of our sanarium is the Aquaviva. As in the great outdoors, the bathers are surrounded by a background noise of birdsong, leaves and the rippling of a clear mountain stream. Escape everyday life and immerse yourself in the world of the Hohe Tauern National Park.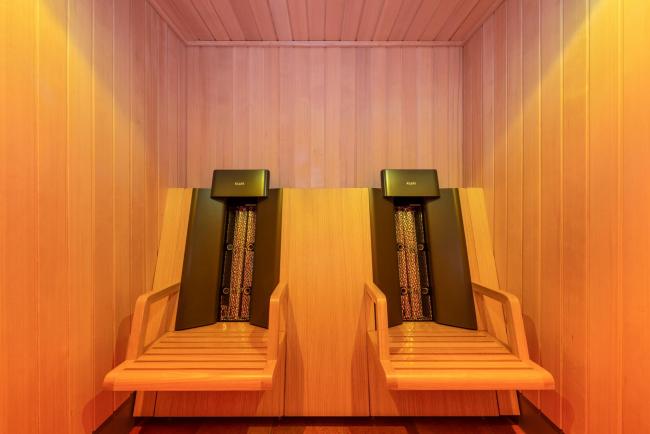 Infrared heat cabin from KLAFS - New from winter 2021/22!
Heat absorption in infrared heat cabins:
In the infrared heat cabins, the heat is largely absorbed by the radiant heat of the infrared radiators. The long-wave infrared C rays have a particularly gentle and gentle effect on the body.

What are the health benefits of the infrared cabin?
The mild radiant heat gets gently under the skin and is a real miracle weapon against the following complaints: - an increase in body core temperature for health prophylaxis - relief for the kidneys - lowering of blood pressure - improvement in peripheral blood circulation - better skin blood circulation and thus a better supply of oxygen and nutrients.